All classes must be completed within their time frame (unless prior arrangements are made); or an additional charge will be added. Fee will depend on how long you need to finish.
---
Log Cabin Quilt
This is for the beginner we will construct a wall hanging and you will see how easy it is to get hooked on quilting.
---
Hunter Star
Learn a new and exciting way to cut out the Hunter Star block. In this class you will be using our Accuquilt and die cut to cut out your block pieces. You will learn how to piece together the pieces to the block along with tips and tricks along the way.
---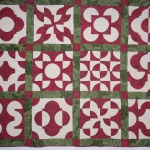 Drunkard Path Block
Learn a new and exciting way to cut out the drunkards path block. You learn how to cut out the drunkard's path on our Accuquilt using our die cut, and how to sew with a curve.
---
Hold Everything
Learn how to make this handy little case with lots of zippered pockets to hold everything you need. You will learn new techniques, tips and tricks that will help you.