Bernina Accessory of the month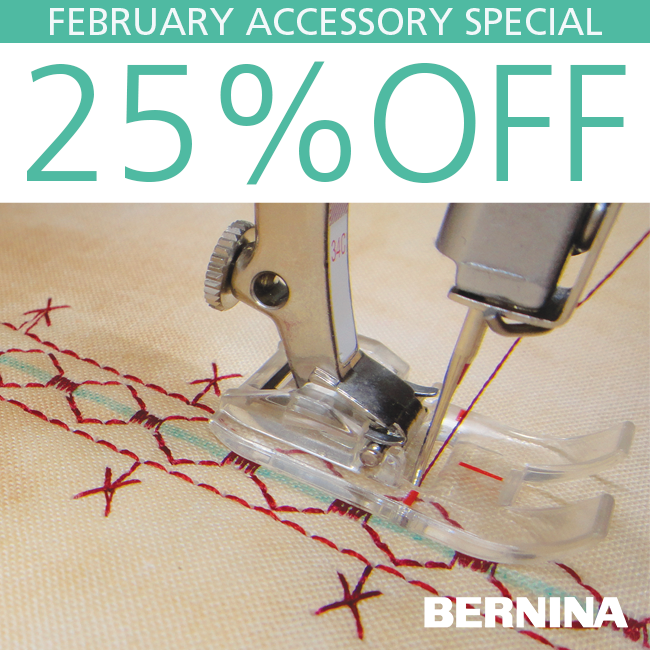 What a great time to add another presser foot to your growing collection. For the month of February the Bernina #34/34C/34/D is 25% off. This would be a perfect Valentines gift…
Store Special – February
Its embroidery month!
We are putting all OESD stabilzers, Bobbin weight thread, OESD embroidery bundle box, Bernina emb. Feet, Emb Cd's, and the Big Book Of Embroidery on special for the whole month.
*Limited stock on hand.
Enroll Today!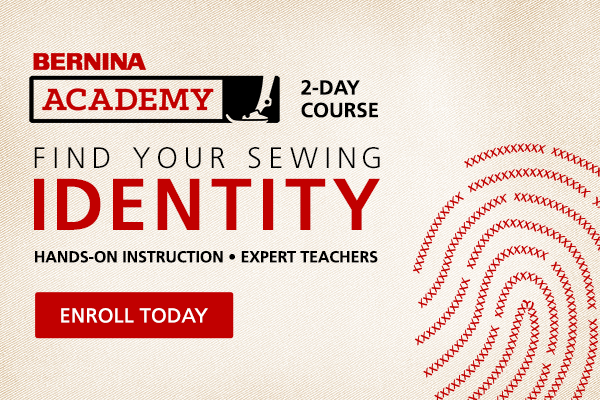 ALL SEWIST!!
Have you wanted to upgrade your machine or purchase your first Bernina machine? This event is for you and is taught by a Bernina educator – Sadra Swick. Sandra is a 6 year member for the Bernina event team. Sandra is a certified technician and international teacher with more than 20 years' experience selling, sewing and teaching professionally with Bernina machines
Whether you are a seasoned pro, or you have never touched a sewing machine, you can attend this course. Everyone will walk away with tips and techniques to improve their sewing skills or inspire to learn and sew more!
Come join us for this fun two day event. You will learn "sew" much and take home a fun book of sewing techniques that you will make on one of the Bernina machines!
Dates: March 13th and 14th
Time: 9am-4pm
Watch out for event flyer for more SEWTASTIC details!
Kimberbell Club – February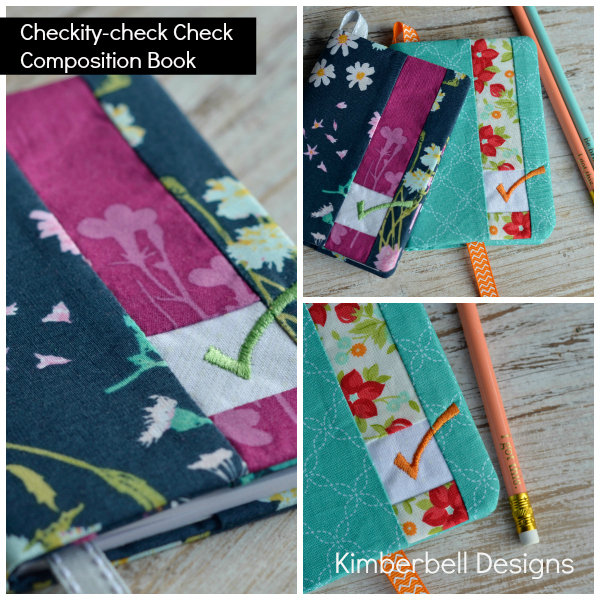 Our first month was a hit! Thank you everyone who came and took the class.
The project above is for February and is offered on the 19th and again on the 22nd , 9am-12pm. The fee for this is class $25.00, which includes the kit, embroidery file and directions. This project fits a mini composition book (*Note, mini composition book is not included in the kit). Remember to sign up 48 hrs. advance and to bring in your USB for us to put your design onto it.
*This is a embroidery only class, if you are interested in taking this class but do not own a embroidery machine, you may rent ours. This is a first come basis. You will embroider on the Bernina 700.
Upcoming Classes
Mastery Classes:
Feb. 1st (Saturday) 9:30am-2pm
Feb. 14th (Friday) 9:30am-2pm  
Feb. 15th (Saturday) 9:30am-2pm
Feb. 28th (Friday) 9:30am-2pm
Feb. 29th (Saturday) 9:30am-2pm
Beginning Sewing:
Thursday starting at 1:00pm – 6:00pm,
They are two hour classes.
Beginning Quilting:
Tuesday starting at 1:00pm-6:00pm
They are two hour classes.
Bernina Software Class:
February 8th 9am-12pm
March 7th 9am-12pm
Kimberbell Club:
February 19th (Friday) 9am-12pm
February 22nd (Saturday) 9am-12pm
March 18th (Friday) 9am-12pm
March 21st (Saturday) 9am-12pm
Bernina Academy Event:
March 13th-14th 9am-4pm,paid event
*Please remember to sign up within 48hrs advance for any class you are interested in.